Google I/O begins next week, and since it is a developer conference, we should expect some big product updates, such as more details on Android 12 and probably Pixel hardware. Because of the pandemic, the organization missed I/O last year, but work remains to be completed.
How to View I/O in Google Chrome
This year's Google I/O is entirely interactive and open to the public from May 18 to 20. The opening keynote will begin on May 18 at 10 a.m. PT/1 p.m. ET. Google has an official agenda for keynotes and breakout sessions as well. To register for Google I/O, simply login to your Google account and register for the event.
Here's what we'd like to see at Google I/O.
Android 12 updates
In the coming years, Android 12 will result in the most significant visual changes to the operating system. Earlier this year, screenshots of a new interface, widgets and privacy features were leaked.
Despite the fact that the first developer beta, which was released in February, was updated several times, there were some hints in the Settings app suggesting a complete overhaul of this phase. We can see lock screen notifications, notification boxes, and a new thematic structure called "NEXT Material" in an XDA developers leak.
Google is expected to release Android's 12 public beta at Google I/O, giving us our first real look at Android's latest look. The I/O plan also roughly coincides with Google's Android 12 beta previews, as seen below.
WearOS, Pixel Watch, and Pixel Buds A-Series
We'd been hearing rumors about a pixel watch for years. Is Google I/O the event where Google unveils its first wearable brand? Jon Prosser released a circular watch in April, which was most likely driven by a new WearOS update. It shows a watch with no lingerie, no physical buttons, an adjustable watch strap, and heart rate monitor indicators.
This is also Google's first major case since acquiring Fitbit. Given that the Fitbit Luxe was just launched, it is unlikely that new hardware will be announced, but Google will announce a wider integration of Fitbit into or inside the Google ecosystem of WearOS itself.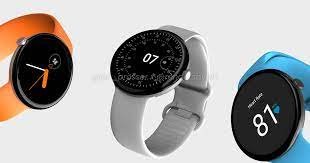 Another WearOS rumor, this time from Korean news outlet MT, claims that the next Samsung Galaxy Watch 4 will use Google's operating system rather than Samsung's own Tizen.
With a tweet from Google's own Android account in May, Google may have unintentionally leaked the most recent Pixel Buds to Nest users in April. Pixel Buds A, like the "A box" of Pixel phones, may be less expensive than the original Buds, which are currently priced at $180. The leak also revealed a new green mint color, and the tweet stated that the earbuds support Android's new Quick Pair feature for quick Bluetooth device pairing.
Due to a global chip shortage, the Pixel 5a's unveiling at Google I/O seems highly doubtful, and the company issued an official statement stating that the telecommunication would be unveiled later this year to dispel rumors of its cancellation. Since the Pixel 4a launched in August 2020, Google will postpone the 5a announcement until later in the year.
Google's alleged mobile processor may also be a wildcard. It's called Whitechapel, and it could be built in collaboration with Samsung and released in the next Pixel 6. Again, we are unlikely to see the phone unveiled during the I/O, but if the chip is marketed, it will give developers a heads-up.
Google assistant and other smart home devices
Google I/O has previously included some jaw-dropping demos, such as when the Google Duplex AI spoke with a real person on the phone to schedule a hair appointment. Although no specific Google Assistant features have been revealed, the new assistant can be heard from more Android devices than Pixel phones.
According to an official blog post, new features and product announcements in a smart home can be anticipated. Google recently released the $99 Nest Audio in late 2020, which means it may have some new features or be available alongside the new Nest Hub Max version.
An FCC filing in March also hinted at an improved Chromecast.
---
Google I/O | Don't forget to follow us on Twitter @njtimesofficial. To get latest updates
(Visited 5 times, 1 visits today)