Following the destruction of Britney Spears' conservatorship in the New York Times Presents documentary "Framing Britney Spears," the publication turned its attention to another female pop star unfairly maligned by the public: Janet Jackson."Malfunction: The Dressing Down of Janet Jackson" began by chronicling the pop icon's meteoric rise to fame, as she broke free from her famous family to become one of the world's biggest stars.

Her meteoric rise coincided with the MTV generation, and when CBS and Viacom merged in 2001, she was chosen to front Viacom. CBS' second Super Bowl, following the success of Aerosmith and NSYNC's halftime show, which featured Mary J.
Blige, Nelly, and Britney Spears.Jim Steeg, the former director of NFL Special Events, was one of the many voices heard by viewers, who said Janet was the least of their worries the year she performed, as her halftime show would also feature Diddy, Nelly, and Kid Rock."Janet Jackson was probably the least of our worries when it came to the talent for that halftime show. There was concern about P. Diddy, Nelly, and Kid Rock, among others "He elaborated. "Some in the NFL thought that was going too far away from where they wanted to be."According to Steeg, Justin Timberlake was added to the cast to help "temper the tone" of the show and make it more "family friendly.
"According to Beth McCarthy-Miller, the halftime show director, they did a full dress rehearsal a few times the Thursday before the big game.

Steeg said there were a lot of notes after rehearsals, as he wrote a 2-page memo with what needed to be changed, including lyrics for Diddy and Nelly, as well as concerns about Kid Rock wearing the American flag during his segment of the show.According to former MTV Senior VP Salli Frattini, they had very little rehearsal time, especially with Justin, with Miller explaining that initially, Janet was supposed to wear a tear-away skirt that Justin would pull off her when he sang the "Rock Your Body" lyrics, "I'm going to have you naked by the end of this song." Underneath, Jackson would have worn a full jumpsuit, but the powers that be decided it "didn't work," and the NFL and CBS agreed to remove it from the routine. Frattini described Janet's reaction to the note as "agreeable."
Frattini then went over all of the wardrobe looks with someone from standards and practises, and they left confident that they "had delivered the messages clear" about what was expected on the day of the show.
However, it was claimed that Janet's stylist, Wayne Scot Lukas, went rogue following the wardrobe approvals, spending money on new fabric and the starburst nipple shield. "We had no idea what might have been going on with Janet and her team," Frattini explained.The day of the big game, Timberlake arrived in Houston, Texas, shortly before halftime, and was escorted to the stadium by police.

In her dressing room, Frattini claimed, "there was a request for him to speak with Janet, her stylist." "We didn't, we weren't in the room, nobody was in the room," she explained, adding that there was "a small conversation that lasted minutes" before Justin came out and they went on stage.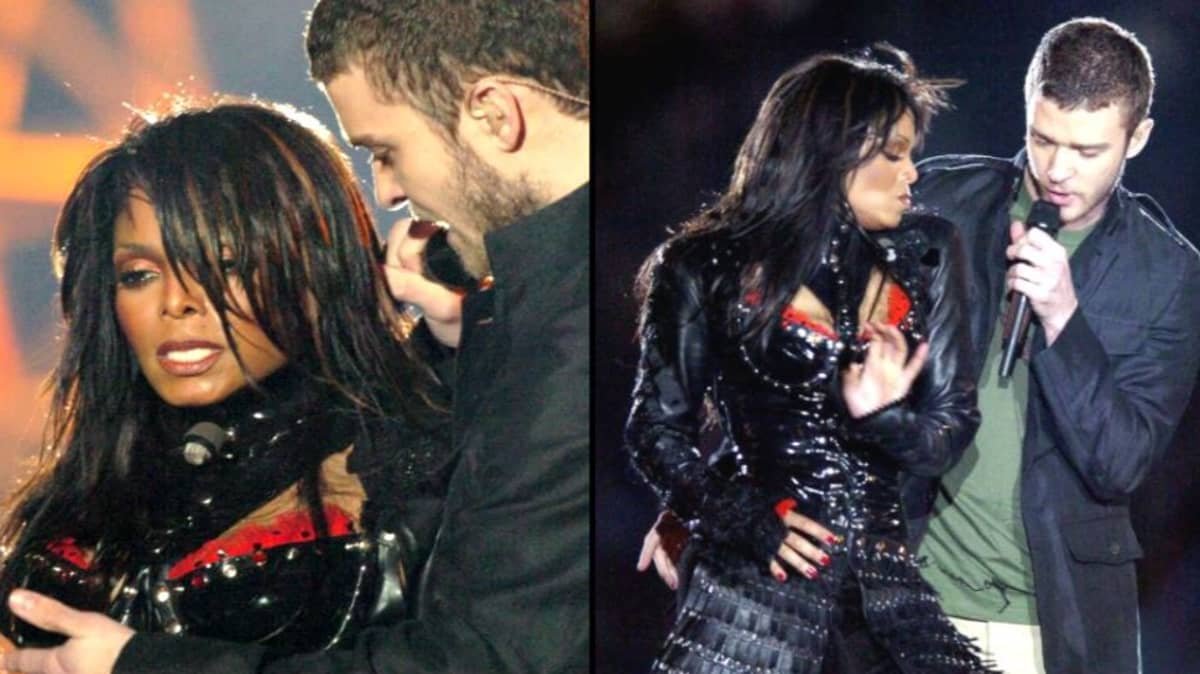 "And then, of course, we get to the end, and it's the last few seconds of the song, and that's just when everything went wrong," Frattini recalled. "We went wide as the song ended, the pyro started, and we began applauding, 'Oh my gosh, we did it!' The phone then rings. And I'm thinking I'm going to answer the phone because I'm going to hear, 'That was amazing, congratulations.'
"Steeg, on the other hand, told her what everyone else had just seen.Director McCarthy-Miller immediately called her stage manager to inquire about the situation on the field. "'I don't know, but I had a blanket for Janet to wrap herself in,' she said. 'I put the blanket on her and she started crying,' I said "she assertedFrattini then rewound the footage and realised what everyone had missed the first time: a half-second of Jackson's breast was exposed at the end of the song.
"We were all in a state of shock. Of course, one of the first things we attempted was to speak with Janet. Janet ran away. We couldn't reach her, and we couldn't reach the manager either "She then asserted.Jackson was nowhere to be found as Justin spoke with reporters backstage as if nothing had happened. According to Frattini, they then pulled Timberlake aside and asked him what happened.
"That was never supposed to happen. 'I was told you guys were aware,' "He allegedly said to them, according to her."We didn't do it. He apologised profusely. He stood up. Personally, I was a wreck; I was in tears, people were crying, and it was extremely upsetting. I felt duped "She continued. "I had a feeling there was a private conversation between wardrobe stylists and artists where someone thought this would be a good idea and it backfired."Timberlake was the first to issue a statement in the days that followed, introducing the term "wardrobe malfunction" into the popular lexicon. Janet then issued her own statement, absolving MTV and all corporations involved in the Super Bowl of any responsibility for what occurred and stating, "It was not my intention that it go as far as it did.
" Justin would later claim that he thought Jackson's red bra would be revealed, but that was it, and he began to distance himself from her completely."On stage, there were two people. He did the yanking. Janet's breast didn't just appear "Tito Jackson, Janet's brother, stated during the documentary. The FCC eventually fined CBS $550,000 for the blunder, but the network never paid a penny after winning an appeal. Meanwhile, Timberlake was invited back to perform during the Super Bowl Halftime Show in 2018, sparking a #JanetJacksonAppreciationDay social media trend as many protested his performance and wondered why his career didn't suffer as much. Anyone with eyes can see the answer: racism and misogyny.
"I know you're shocked, but I've never been invited to direct again," McCarthy-Miller joked. "It's all right, my feelings aren't hurt."Jackson, on the other hand, would receive flowers when she was inducted into the Rock and Roll Hall of Fame. Timberlake eventually issued a public apology as well, prompted by the public shaming he received after "Framing Britney Spears" highlighted his treatment of both Spears and Jackson earlier this year.
"I recognise that I fell short in these and many other instances, and that I benefited from a system that tolerates misogyny and racism," he said in February 2021. "I want to specifically apologise to Britney Spears and Janet Jackson, because I care about and respect these women, and I know I failed." You can read the rest of his statement here.Both Timberlake and Jackson declined to comment on the special, despite Janet's own two-part A&E documentary, "Janet," premiering in January 2022. She's expected to go into detail about the Super Bowl incident at that point.
____________
Nipplegate Scandal | Don't forget to follow us on Twitter @njtimesofficial. To get latest updates
(Visited 17 times, 1 visits today)