Once Psychologist Carl Rogers rightly said
"The very essence of the creative is its novelty, and hence we have no standard by which to judge it." Every art is unique in its own way, and thus there cannot be a particular standard to judge someone's art. Some artworks are overrated and some are undervalued but it really depends on the perspective that how the viewer perceives an artwork. while there is no shortage of art around the world there are some artwork that instantly grabs the attention of the masses. And today we'll interview one such artist who were the contemporary pop art has made a name for herself around the globe.
Sukesha Ray is a contemporary digital artist, musician, influencer, entrepreneur, streamer and what not, the list can go on and on. So let's first know About her childhood, and how she actually got into art and drawing.
Q: Tell us something about your childhood and your first adventure with drawing or art.
"I grew up in a small town in Mechanicsburg, PA . I first discovered my passion for art when I picked up my first pencil and began sketching in my reading books. There was something indescribable and relieving about picking up a pencil and transporting myself into a world where I was free to transform my imaginations.
Q: You come from a Family Background Belonging to Medical field, so how did you initially got into Art and do you want to carry your family legacy as well?
Ans:Earlier I wanted to become a plastic surgeon.However, I acquired a love for drawing and painting and now my sole focus is on my art and music, I am a professional artist and musician, I went into Med school but later I changed my decision because I realised that I only find solace in my art.
Q. How did you get into Digital Art Painting and what other form of media you would love to publish your works?
Ans: I played video games and was a huge SEGA fan, and further cultivated my love for pop art by drawing the characters from video games such as the popular series Sonic the Hedgehog and Pokemon. For Christmas when I was ten, my father bought me my first digital tablet and from there, I transitioned into the realm of digital art. While digital art is my forte, I also love working with traditional media as well."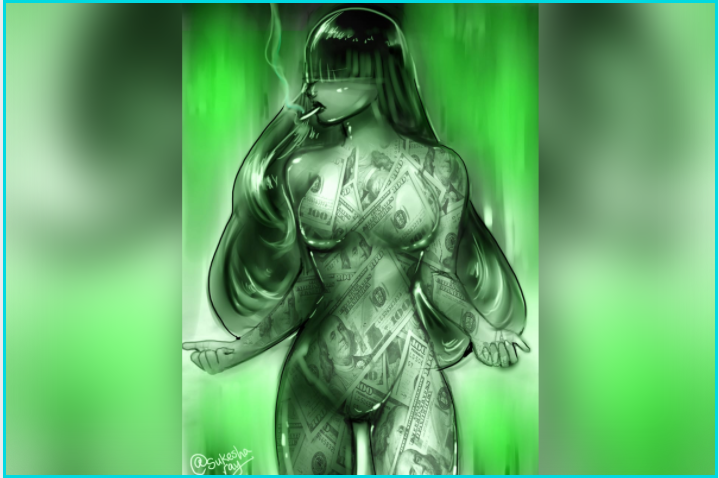 Q: Your art is a great mixture of Anime and Manga with some cool shades of Pop Culture. Why you mostly love making Pop Art and who is your inspiration?
Ans: Music contributes a large influence to my pieces. Often times I will draw the musicians or artists that really inspire me. Some of my favorite artists are the major EDM/ Electro music artists as well as rap and pop artists. The genre of music that I am listening to at the time greatly affects what I will paint, because as each song tells a story, as does my artwork. Takashi Murakami is one of my biggest inspirations in the art world as he goes above and beyond in producing vibrant works of pop art with Japanese anime and manga influence."
Q. You have got many opportunities to collaborate with various great artists around the world, and you even Collaborated with the merchandise partner Rage On which launched your merchandise as well. What is the piece of advice that you would like to give to all upcoming artists?
Ans: first of all thank you working with Rage On was just like a Dream Come true for me and the piece of advice that I would really like to give is- Sometimes you are put in a position where people are jealous of what you have, what you are doing, what you stand for, etc. They will do anything to tear you down to pieces; destroy you and everything you stand for, just for their own satisfaction. My dad always told me this happens to dreamers, the go-getters, the people that want to forge their own path. Basically, in a generalized aspect this is what happened to my family for a couple of years: people were jealous of my father, had a lot of power, and wanted to use it to destroy him and his career. For a while we fought and fought, but through all the struggle I think we learned to see different blessings and amazing miracles in that time of struggle. So for people who are fighting their own wars, there is a light, just stay strong.
Thank u so much Sukesha for giving your precious time and we wish all the best to you for your all future projects.
Shuddh was the story of Sukesh who is a digital artist and businesswoman, her hard work ,dedication , and to work with diligence and learn from her mistakes are her biggest strengths. There are very few artists like Sukesha who can really inspire you to aspire for something big in life and always believe in yourself.
---
Sukesha Ray | Don't forget to follow us on Twitter @njtimesofficial. To get latest updates
(Visited 22 times, 1 visits today)